Royale Chulan Hotel Maps

Level G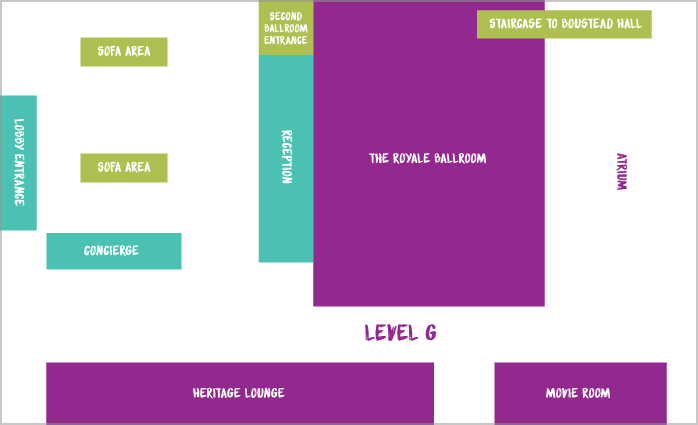 Level 1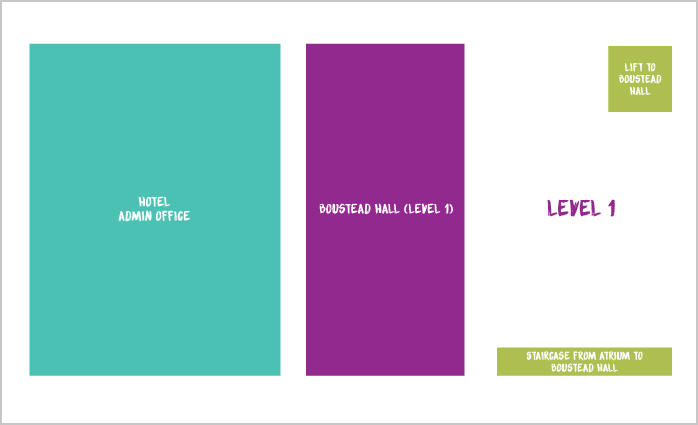 Level 2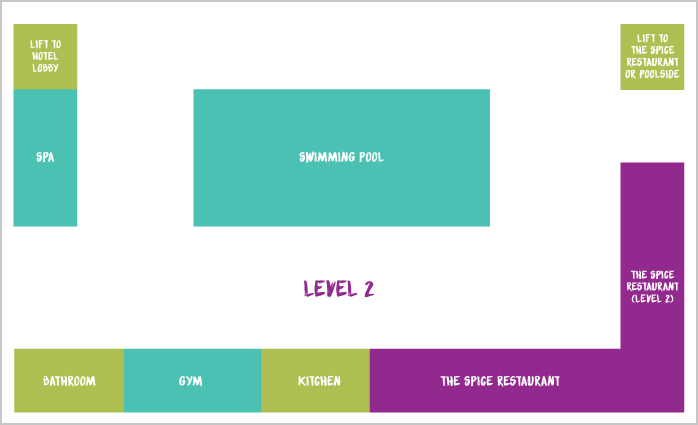 Level 3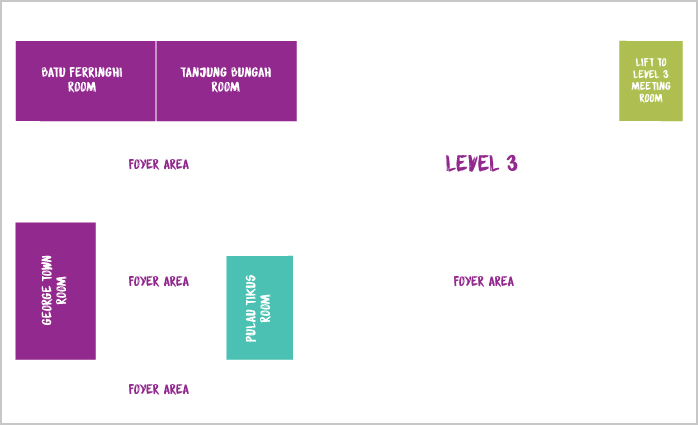 Nearby Attractions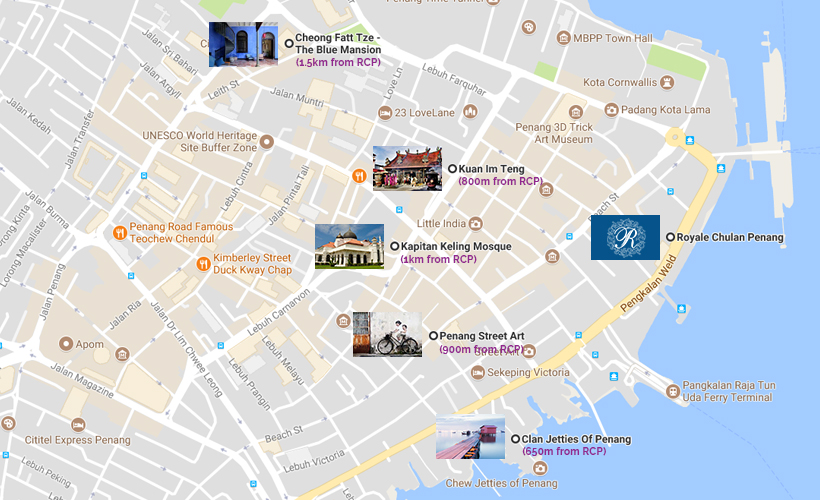 Click here to launch Google Maps.
Clan Jetties Of Penang
650m from Royale Chulan Penang (RCP)
Just a stone's throw from Penang's ferry terminal, the Clan Jetties are a part of the island's heritage trail and worth a visit. Six jetties still stand today and each one of them are named after a clan. The Chew Jetty is thought to be the most tourist-friendly of the lot, for being the most snap-worthy with the longest walkway and most stilt-houses.  
Penang Street Art
900m from RCP
Located along several streets in inner Georgetown, a walking tour of Penang's Street Art is not to be missed. Start your stroll from Muntri Street all the way up to Weld Quay to enjoy London-trained Lithanian artist Ernest Zacharevic's handiwork. It was commissioned by the island state's municipal council in 2012, and has since breathed new life into the century-old Chinese shop lots of the area.  
Kapitan Keling Mosque
1km from RCP
Sitting pretty at the corner of Lebuh Buckingham and Jalan Masjid Kapitan Keling today is the Kapitan Keling Mosque that was first built in 1801. Standing amidst eight acres of lush greenery, the mosque's real highlights are its interior of gentle sloping arches and exterior Mughal-style domes. Entry to those visiting is at the discretion of mosque officials. Visitors are advised to be modestly attired – meaning long sleeves and pants or long skirts for women and a shirt with long pants for men.
Kuan Im Teng (Kuan Yin Temple)
800m from RCP
Penang's oldest temple. When it was first built and completed in 1728 by early Chinese immigrants, the newly-renovated Kuan Yin Temple was considered the most magnificent Chinese-style erection in all of Northern Malaysia with its intricate dragon carvings, stone pillars and high ceilings. As its name suggests, the temple was constructed in honour of Kuan Yin, the Chinese Goddess of Mercy but is also dedicated to Ma Chor Poh, the patron saint of seafarers.
Cheong Fatt Tze Mansion (The Blue Mansion)
1.5km from RCP
This beautiful indigo blue mansion was first built in the late 1800s by a wealthy Chinese merchant named Cheong Fatt Tze. It remains a private residence today, but also doubles as a 16-bedroom bed-and-breakfast. The mansion is also open to visitors who simply wish to tour its unique architecture that melds the East and West with gothic louvred windows and art nouveau stained glass windows set alongside Chinese porcelain mosaics. 


Nearby Eateries


Click here to launch Google Maps.
Within 1km
Sri Weld Food Court
80m from Royale Chulan Penang (RCP)
A great place to sample just a little bit of everything! The food court's highlight is the nasi lemak but you can also find other local favourites like Hokkien mee, wan tan mee, beef kuey teow, and fried taufu. Food courts in general are also inexpensive and vendors here usually charge street food prices.  
The Leaf Healthy House Café
550m from RCP
If you're a vegetarian or are simply health-conscious, the food at the Leaf Healthy House Café is right up your alley. Here, food is lovingly prepared free from artificial colours and flavours. The restaurant also boasts a wide variety of eastern and western dishes such as brown rice with vegetarian tom yum or Chinese herbal soup and pumpkin spaghetti.  
Coffee On The Table
650m from RCP
Are you always on the prowl for Insta-worthy coffee and cake? If yes, look no further than the 3D coffee art at Coffee On The Table. Whether you ask for a cat, bunny, bear or seal, we promise you won't be able to resist a photo. It's also a great pit-stop as you're wandering along Penang's heritage trail.
Nyonya Delights Cafe
700m from RCP
Nyonya Delights is a one-stop shop serving up all your local Penang favourites like lam mee, asam laksa, white curry mee and Hokkien mee. But also be sure to try one of their signature dishes – the famous curry chicken homemade pyramid bread. Meant for sharing, this giant bread pyramid holds a parcel of yummy chicken curry within, so you can slice the bread open, pull it apart and dip it into the curry.
Black Kettle
700m from RCP
Expect nothing less than good food and great coffee at Black Kettle. It's also a great space for digital nomads or if you just need an hour or two to catch up on work or emails. A highlight we suggest you try (besides the coffee, of course) is the peanut butter and jelly éclair.
ChinaHouse
800m from RCP
Heaven for anyone with a sweet tooth, get ready to be gobsmacked by a wide array of cakes, tarts, pies and other delectable desserts as soon as you step into Penang's longest café – China House. Things do get busy, but it'll be worth the wait. Besides good eats (and getting to create your own art while feasting), China House also features live musical performances on the regular.
The Alley
850m from RCP
An obscure little café just next to Kuan Yin Temple, The Alley is one of Penang's newer hipster joints. The menu is limited to a few types of desserts and coffee varieties, making this place perfect as a tea-time pit-stop if you're doing a walking tour of Penang. Try the salted caramel cronut or churros, both served warm.
Hameed Pata Mee Sotong
900m from RCP
One of the island's most famous food haunts. They may not have variety unlike a food court or restaurant, but whatever few dishes Hameed offers, they serve to perfection. The mee goreng sotong (fried noodles with squid) is the restaurant's most famous dish, and locals enjoy pairing it with a refreshing coconut shake.
Nasi Kandar Beratur Original
1km from RCP
Possibly the most famous nasi kandar (rice with a combination of curries, sauces and viands tossed over it) joints in Penang, Nasi Kandar Beratur Original normally has a long queue of hungry people just like its name suggests (beratur means 'queue' in Malay). We recommend going there early for choice pickings as some dishes sell out fast.
---
Within 2km
Rainforest Bakery
1.2km from RCP
If you feel that you've had quite enough of noodles and rice, and that you're longing to sink your teeth into a seedy bagel instead, then head over to Rainforest Bakery. They have loads of breads and baked goods on offer, from focaccia and ciabatta to baguettes and cakes, so you'll definitely be spoiled for choice.
Yin's Sourdough Bakery and Cafe
1.3km from RCP
A lovely neighbourhood bakery specialising in sourdough breads such as German sourdough rye, coconut sourdough bun, cinnamon sourdough rolls and classic sourdough among others. They also pride themselves in serving 'real' bread, as they only use unbleached of whole wheat flour, their own culture, and don't add any additives, improver, softener, preservatives or chemicals.
Moh Teng Pheow Nyonya Koay 
1.4km from RCP
This quaint shop is practically an institution. Loved by the locals, Moh Teng Pheow Nyonya Koay are purveyors of Malaysian nyonya-style kueh (traditional cakes). Although these delectable desserts are their specialty, Moh Teng Pheow also serve up some tea-time savouries like pai tee that's worth a taste.
Kimberley Street Duck Kway Chap
1.6km from RCP
Although there's a plethora of yummy street eats to choose from when you're on Kimberley Street, the duck kway chap stands out. This stall is a favourite among locals and considered legendary. What this dish basically is, is a broth with noodles or porridge loaded with pork and duck meat. Then, you can choose add-ons such as eggs, pig's ear, tongue and innards.
Foong Wei Heong Restaurant
1.7km from RCP
For those looking to have some really good, authentic Chinese fare, then head on over to Foong Wei Heong. Get your belly ready to feast on a wide array of dishes including suckling pig, crispy roast duck and other vegetable dishes without burning a hole in your wallet. The traditional Chinese pancakes are a must for dessert.
Restoran Nasi Padang Minang
1.9km from RCP
On a quest for really good halal food? Nasi Padang Minang specialises in preparing one of Indonesia's most famous types of food – nasi padang (steamed white rice served with an array of pre-cooked viands originating from Padang city in West Sumatra)! There are over 50 dishes to choose from, but the deep-fried dishes seem to be a favourite. Another highlight is the ikan bakar (grilled fish) served on a bed of deep-friend shallots and a side of special dipping sauce.
Penang Road Famous Teochew Chendul
1.9km from RCP
One of Penang's must-try desserts! You might find its franchises in other cities, but when in Penang, pop over to the original cart. Super refreshing on a hot day, chendul is a Malaysian classic of pandan-flavoured palm floor noodles and boiled kidney beans in coconut milk under a tower of shaved ice drizzled with gula melaka.